Party Like it's Your Earthday; We Did!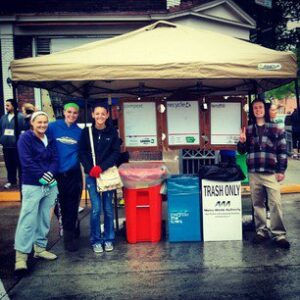 We are officially in our terrible twos! RecycleMe Iowa turned two yesterday on our favorite day of the year. Earth Day!  A holiday that doesn't encourage wasteful packaging, unnecessary purchases or decorating your home and work with evolved mascots in white fluffy beards or bunny ears. This holiday is all about remembering to be respectful for what we call HOME. To be conscious of our decisions, to begin or re-ignite positive habits, stop making excuses and chose to be grateful, not wasteful.
In celebration of our Earthday, Valley Junction threw a party for us! (We think Earth Day in the Junction is secretly code for RecycleMe Iowa's Birthday extravaganza.) The busy birthday weekend took us around the community recycling good vibes and meeting some amazing people.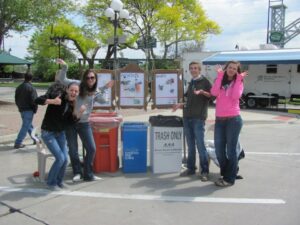 From the Trash Bash to the Science Center to Earth Day in the Junction; RecycleMe Iowa teammates tackled event waste and encouraged many to choose an Earth Day resolution. Many apartment tenants signed up for our doorstep service and we shocked event organizers as they saw the results of our waste diversion.
"Keep your thoughts positive because your thoughts become your words. Keep your words positive because your words become your behavior. Keep your behavior positive because your behavior becomes your habits. Keep your habits positive because your habits become your values. Keep your values positive because your values become your destiny." 
So, what's your Earth Day resolution?
Here are some of our suggestions:
1. Sign up for RecycleMe Iowa's doorstep service.
2. Challenge yourself to take a reusable bag to the store EVERY time. Soon it will become habit.
3. Say NO to styrofoam! Not only does it never degrade, it also leaks toxins in your food when you reheat it in a microwave. So not cool.
*Sustainable option: Bring your own container if you are knowingly going out to eat or ask for a alternative option.
4. Adopt a motto such as 'Bring it in, bring it out.' If you have a recyclable item in your possession and there is no recycling where you are located, take it with you. If you were able to bring it in; you should be able to bring it out. Do this when going to parks and outdoor activities.
5. Call people out. Yep, we said it. It's 2012 and recycling wasn't born yesterday so it's time to get with the program. Next time you see someone throw a cigarette butt or mindlessly throw recycling in a trash bin because they couldn't seem to see the big sign you have our full support to open up a conversation.
As we continue to grow we promise our two's won't be so terrible. We're putting gratitude in our attitude and encourage you to do the same. Choose an Earth Day resolution and choose to be awesome.
Oh yeah. And we made the news. Woo!