Butterflies, Sweatshirts and Resolutions.
Well hey there you, yes you… this blog is for you!
Welcome to 2016 and my first blog post of the year. My name is Kelby and I am officially the Social Butterfly Executive for RecycleMe Iowa. Imagine butterfly wings but with some solid gold trim with bright green on the inside. I have blossomed into my new wings and am here to provide you with a constant flutter of cool context and lively images to keep you in flight with us! There are a ton of awesome things happening at RecycleMe Iowa this next year and a lot of great moments to be apart of.
The first big moment for us, is getting the sweatshirts back for you! There has been a huge request and demand for our gear so we brought it back. There are two uni-sex sweatshirts, super comfy and thanks to our friends at 8|7 central it includes eye catching designs that everyone will like. They're only available until Jan 25th and can be purchased at https://recyclemeiowa.eightsevencentral.net/shop/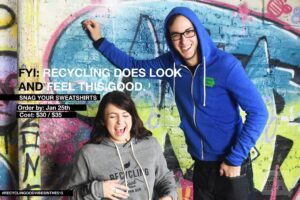 Each month will have a focus so we can all be greener together. This month is Resolution Recycle, to be honest with you not all resolutions last. There are high expectations which make the end goal seem like another job…..nobody has time for that!
Resolution Recycle can be accomplished in everything you do, we won't keep tabs on you or shun you for not doing your part. We are just challenging you to keep a mindset of recycling towards aspects of your life. It will not only better yourself but also our community and the world!
How cool is that, if you make a conscious decision to go one step further to making yourself and what ever you are doing better, it well then become a habit and BOOM next thing you know you're an eco hero.
For me, I am a huge hoarder; I have a hard time letting something go, I keep everything and repurpose it. There, I said it so much easier now… I have gone through my clothes after the Holidays and donated to Plato's Closet and Goodwill. I have gone through all old folders, binders and projects to recycle and reduce. I took my love for magazines and the law of attraction and reused them into a project (pictured below.)
I wanted to share my #RESOLUTIONRECYCLE project, so you can get a feel of my act towards the resolution and who I am.
I will strengthen my spirituality and philosophy.
I love Astrology…I will trust my fate more.
Be more positive & attract good vibes.
Win an award this year.
Be more organic & harmonious through mind/body/soul.
Reuse my old clothes to restyle 2016
Be a more mindful Yes person.
Be grateful for each moment and each process.
MORE YOGA & Community events
Work my wings for RMI, be more green and renewable in every aspect.
I've always wanted a horse… so horse back riding lessons in the future!
Thank you for taking your time to visit our blog and getting to know me, more blogs to come for the year. Go follow our new Instagram page, RecycleMeIowa!