From the Military to Iron Worker to Recycling Ranger; Meet Mr. McManus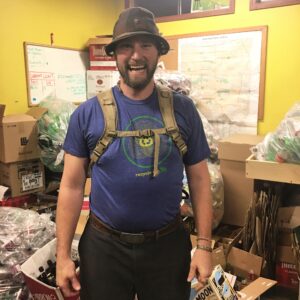 Aaron McManus, the newest RMI family member…. He's too legit to quit.
Lets give a warm welcome to our newest member of the family Aaron McManus and really get to know who is wrangling up our recycling. I sat down with Aaron to give our customers and followers a preview to who he really is.
Kelby: Where did you work before this?
Aaron: The jobs I've taken before have been out of necessity and not desire. I've taken them based off of income and not so much about what I truly believe in.
Kelby: What makes RecycleMe Iowa stand out for you?
Aaron: RecycleMe Iowa stands out to me by the way it is managed by the effortlessly awesome, Ciji. I'm really excited about moving forward professionally and moving the business forward as well.
Kelby: What do you hope to accomplish with RecycleMe Iowa?
Aaron: I hope to bring attention to recycling, I hope my efforts provide awareness to our services and the services available.
Kelby: What do you hope to gain from working here?
Aaron: I think by taking responsibility and accountability for myself by leading by example so other people do the same to get the fad going…It seems that is how society works, they kind of jump on whatever is working, if we can bring attention to this (RecycleMe Iowa) and show that it is working, I want to be apart of it.
Kelby: What do you do outside of RecycleMe Iowa?
Aaron: Anything outside, the more scenery the better for me. I am outdoorsy, and active with people I care about. I really like to disk golf and kayak.
Kelby: What is one of your favorite things to do?
Aaron: Honestly, making memories with my two daughters, Lilly who is 7 and Luna who is 1. It's really important I practice what I preach to my daughters.